And the tapestry was the world
a performance by and with: Bruno Pocheron, Lina Gómez, Angela Hicks, Julek Kreutzer, Nadia Ratsimandresy, Linda Samaraweerová, Aaron Snyder
Thursday | 27.10.2022, 19:30
Friday | 28.10.2022, 19:30
Saturday | 29.10.2022, 19:30
.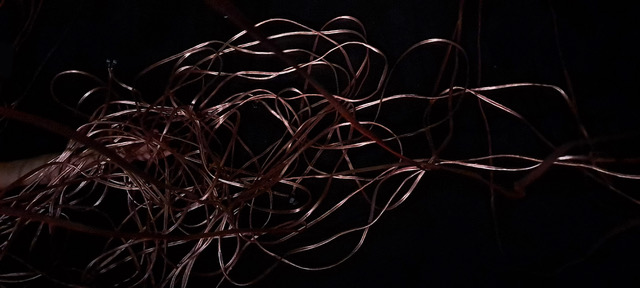 "In Mexico City they somehow wandered into an exhibition of paintings by the beautiful Spanish exile Remedios Varo: in the central paintings of a triptych, titled 'Bordando el Manto Terrestre', were a number of frail girls with heart-shaped faces, huge eyes, spun-gold hair, prisoners in the top room of a circular tower, embroidering a kind of tapestry which spilled out the slit windows and into a void, seeking hopelessly to fill the void: for all the other buildings and creatures, all the waves, ships and forests of the earth were contained in this tapestry, and the tapestry was the world." Thomas Pynchon, in The Crying of Lot 49
Venue: Tanzhalle Wiesenburg, Wiesenstrasse 55, Wedding, 13357 Berlin
Tickets: The event is free of charge. A donation of 5-10 € is welcome. The number of places is limited. Reservations here
Credits: concept, artistic direction, light and space: Bruno Pocheron | choreography, performance: Lina Gómez, Julek Kreuzer, Linda Samaraweerová | composition, performance: Nadia Ratsimandresy | sound, live mixing: Aaron Snyder, Bruno Pocheron | composition, voice: Angela Hicks | costumes: Nancy Banfi, Bruno Pocheron | artistic assistance: Nancy Banfi
technical support: Ivan Bartsch, Marcello Silvio Busato, Brian Kiel, Lola Lustosa | production management: Heiko Schramm | web: Heather Allen | photo: Bruno Pocheron
Supported by the NATIONAL PERFORMANCE NETWORK – STEPPING OUT, funded by the Minister of State for Culture and Media within the framework of the initiative NEUSTART KULTUR. Assistance Program for Dance
Tanzhalle Wiesenburg is supported by Produktionsortförderung of the Berlin Senate Department for Culture and Europe
production: Bruno Pocheron | co-production: Wiesen55 e.V.