HARVEST (3+)
16. – 23.09. 2021 Premiere and further performances | Tanzhalle Wiesenburg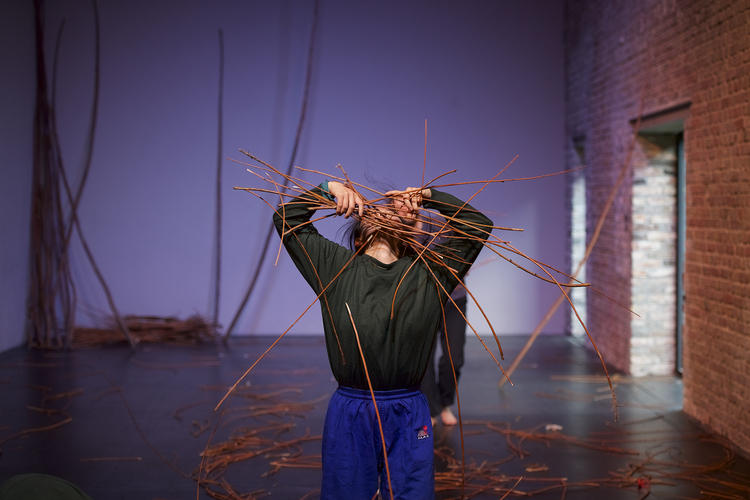 A dance performance by Isabelle Schad for people of all ages |
Interview with Isabelle Schad about Harvest (German)
What does a willow stick sound like? How does it feel in the hand? How do the big sticks differ from the small ones? The brown ones from the green ones? The old ones from the young ones? And how do they become a puppet, a whale's belly or a forest, a monster or a whip?
Harvest is about mindfulness; and about the question of how to work with nature, how to harness it and how to handle it respectfully. Choreographer Isabelle Schad explores the brushwood with three dancers and a musician and creates surprising and ever-changing landscapes. Between the exploration of the material, the layering, storing, bending of the sticks, twigs and branches and listening to the crackling and cracking in the silence, an imaginative play develops with seemingly weightless magical creatures and other small wonders that appear – and disappear again. With poetry and lightness, the ensemble explores the relationship between man and nature – but also the sound cosmos of the willows that produce the rhythms for the harvest and the dance.
Harvest is the first work by choreographer Isabelle Schad to be developed for a very young audience aged 3 and upwards. In 2019/2020, Isabelle Schad has already adapted her production "Der Bau" (The Burrow) based on the story by Franz Kafka for a children's audience from 3 to 6 years (for the FRATZ Festival), thus gaining her first experience with the young target group. Both works are co-produced with the network project "Offensive Tanz für junges Publikum Berlin".
Direction, choreography: Isabelle Schad; music, live sound: Damir Simunovic lighting, artistic assistance: Emma Juliard; stage: Isabelle Schad; dance, co-choreography: Jan Lorys, Aya Toraiwa, Manuel Lindner; dramaturgical advice young audience: Dagmar Domrös; willow harvesting: Volker Hüdepohl; organisational assistance: Heiko Schramm
First performance: 16.09.2021 Duration: approx. 35-40 minutes
A production by Theater o.N. as part of the "Offensive Tanz für junges Publikum Berlin", supported by TANZPAKT Stadt-Land-Bund and Berlin Senate for Culture and Europe (co-financing fund).
.
FURTHER UPCOMING EVENTS:
01. – 02.10.2021 Harvest | Gastspiel Hamm | Helios Theater
21. – 24.10.2021 DER BAU 3+ | Tanzhalle Wiesenburg Berlin
08. – 09.10.2021 Somatic Charting | Isabelle Schad for Somatic Charting. The House is the Body | Tanzhalle Wiesenburg Berlin